Limited Time Offer: SAVE UP TO $5,500 on a new McIntosh Home Theater System!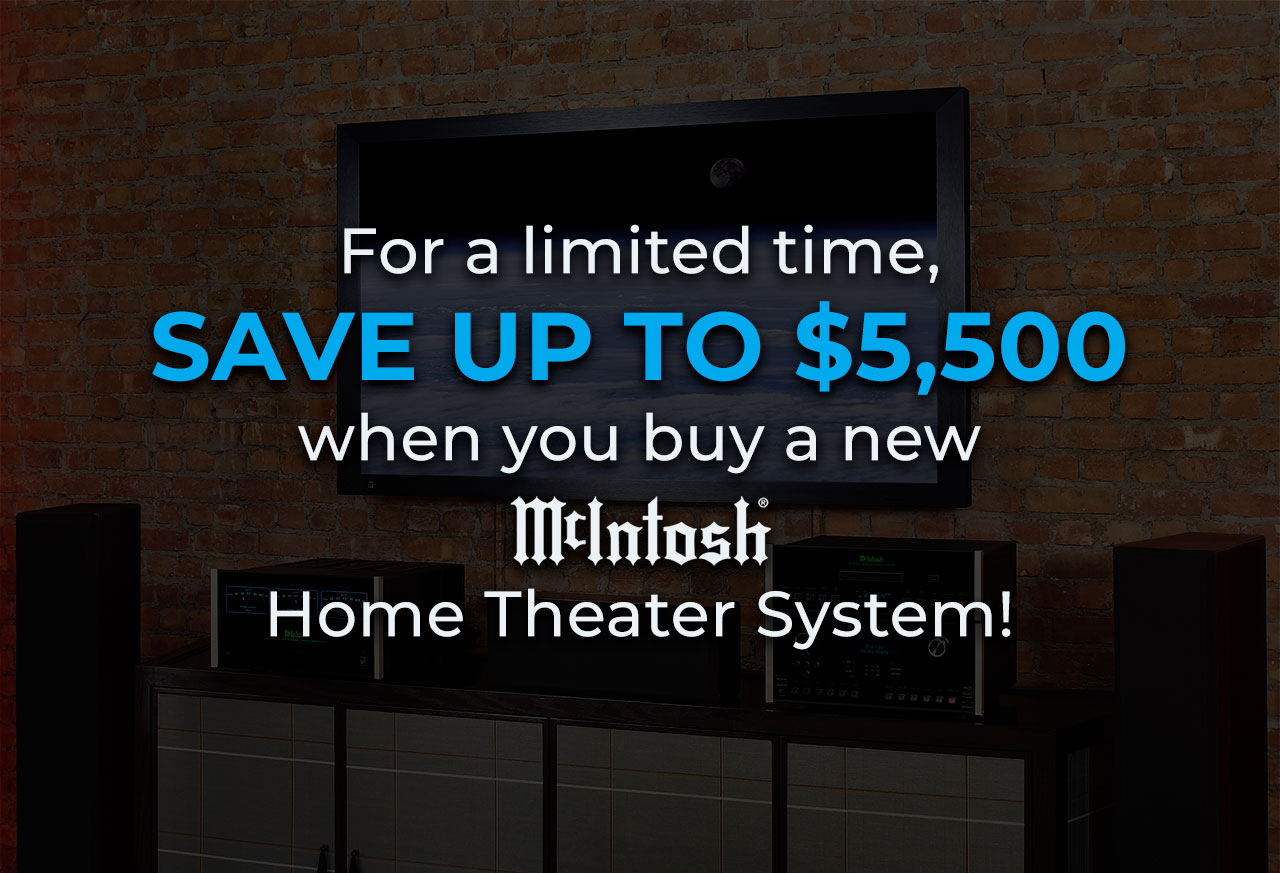 Experience the thrill only a McIntosh powered home theater system can deliver at a substantial savings!
For a limited time, save $5,500 when you purchase a new qualifying McIntosh home theater processor, a Blu-ray player and a multi-channel home theater amplifier. Already have an amplifier? You can still save $4,000 when you purchase a new McIntosh home theater processor and a Blu-ray player.
Qualifying products include:
McIntosh home theater products are designed to provide years of home entertainment enjoyment. Our processors fully support 4K Ultra HD video sources, High Dynamic Range (HDR10) as well as the latest object-based 3D audio formats such as Dolby® Atmos, DTS:X™ and Auro-3D® to put you right in the center of all the action. Our Blu-ray player can upsample 1080P and lower resolutions to 4K Ultra HD, breathing new life into your Blu-ray or DVD library. And then our legendary amplifiers will deliver an explosive and theatrical experience through your speakers.
Contact your local dealer today to take advantage of this amazing LIMITED TIME offer!
Promotional period: April 3 – May 31, 2018. Offer valid only in the US and Canada. Qualifying products: Processors: MX122 and MX160; Blu-ray players: MVP901; Amplifiers: MC205, MC207 and MC8207. During the promotional period, customer will receive a $5,500 discount when purchasing (1) each of a Processor, Blu-ray player and Amplifier. Customer will receive a $4,000 discount when purchasing (1) each of a Processor and Blu-ray player. Offer valid only to US and Canadian customers who purchase from a participating US or Canadian authorized dealer during the promotional period. Purchases made at non-participating dealers will not qualify. In order to insure in advance that purchase(s) will qualify, customers can verify dealer participation by calling McIntosh at (607) 723-3512 before purchasing. Prior sales excluded.