Limited Time Offer: Trade in your old McIntosh DVD or Blu-ray Player and TradeUP to a new MVP901!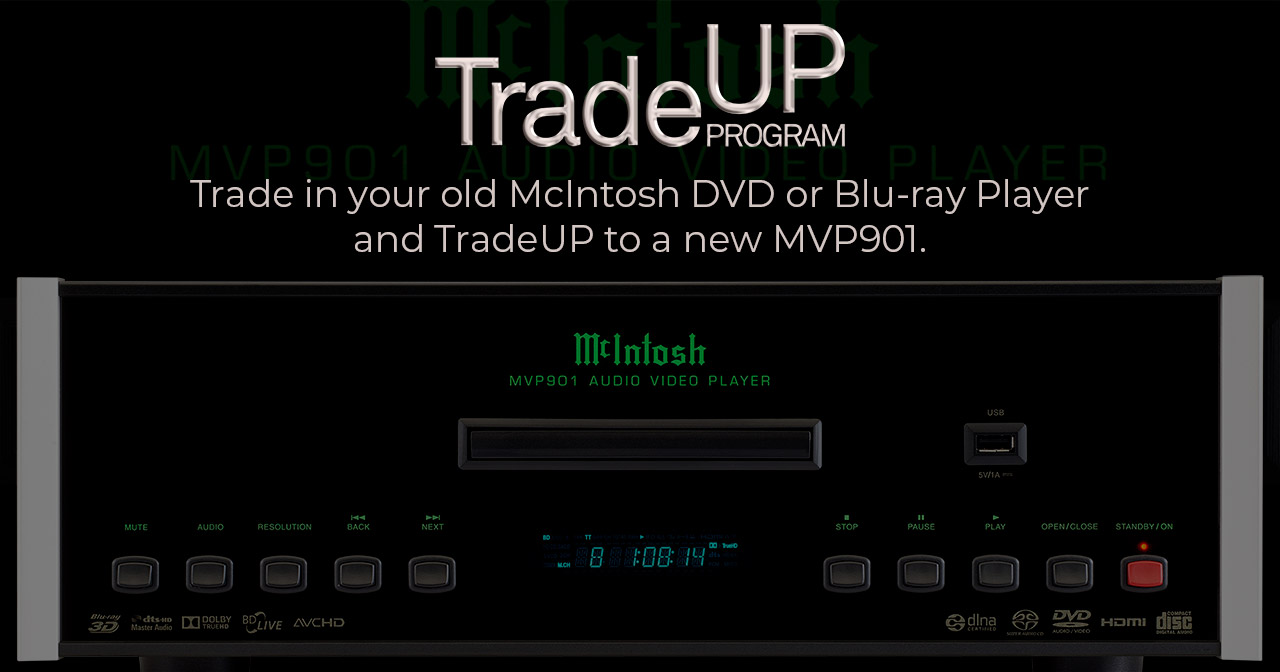 Experience the thrill only a McIntosh home theater system can deliver!
For a limited time, save up to $2,000 on a new MVP901 Blu-ray Player when you trade in a qualified previous generation McIntosh DVD or Blu-ray Player.
McIntosh home theater products are designed to provide years of home entertainment enjoyment. Our MVP901 Blu-ray player can upsample 1080P and lower resolutions to 4K Ultra HD, breathing new life into your Blu-ray or DVD library.
Reviewer Aron Garrecht of SoundStage says "edge detail, color, focus, and smoothness of image movement were all a cut above - and by a cut above, I mean the best I've seen from DVD... the MVP901 presented this [Almost Famous] and other films on DVD as cleanly, clearly, and vividly as I've ever seen." With actual Blu-rays, the level of detail delivered by the MVP901 made him question "if I really need to move up to a 4K projector."
Qualifying TradeIN products and their TradeIN values include:
MVP831: $1,000
MVP841: $1,000
MVP851: $1,500
MVP861: $1,750
MVP871: $2,000
MVP881: $2,000
MVP891: $2,000
These TradeIN values represent up to 40% of the original MSRP of these units - truly amazing value retention! Plus your TradeIN unit does not need to be in working condition nor is its original packaging required.
Contact your local dealer today to take advantage of this LIMITED TIME offer!
Promotional period: September 3 – October 31, 2019. Offer valid only in the US and Canada. During the promotional period, customer will receive a discount equal to the listed TradeIN value of their TradeIN product when purchasing (1) MVP901 Blu-ray Player. Offer valid only to US and Canadian customers who purchase from a participating US or Canadian authorized dealer during the promotional period. Purchases made at non-participating dealers will not qualify. In order to insure in advance that purchase(s) will qualify, customers can verify dealer participation by calling McIntosh at (607) 723-3512 before purchasing. McIntosh reserves the right in its sole discretion to deny upgrade applications in the event of a supply shortage affecting the MVP901, and shall have no liability for doing so. Prior sales excluded.