McINTOSH OPENS FLAGSHIP AV GALLERIA STORE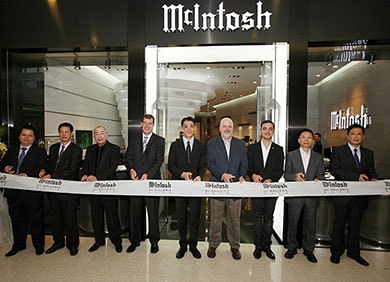 Shanghai, China, October 27, 2012 - McIntosh Laboratory, Inc. is pleased to announce the opening of a flagship AV Galleria store in Shanghai, China. Located in the famed Plaza 66, the store is a testament to McIntosh's timeless appearance where the store's clean, modern design allows the McIntosh systems to grab all the attention. With various McIntosh systems on display, including the custom McIntosh Exclusive theater that showcases the famous Reference Home Theater system, consumers are given a prestigious setting to match the quality of our products. With the strong support of Hong Kong/China McIntosh distributor, RichCom AV Group, this is the first standalone McIntosh retail location in the world. Plans are in place to expand locations throughout China, with the next location opening in Beijing in 2013.

More information available at www.neeu.com.