Behind The Sound®: How to set up a surround sound system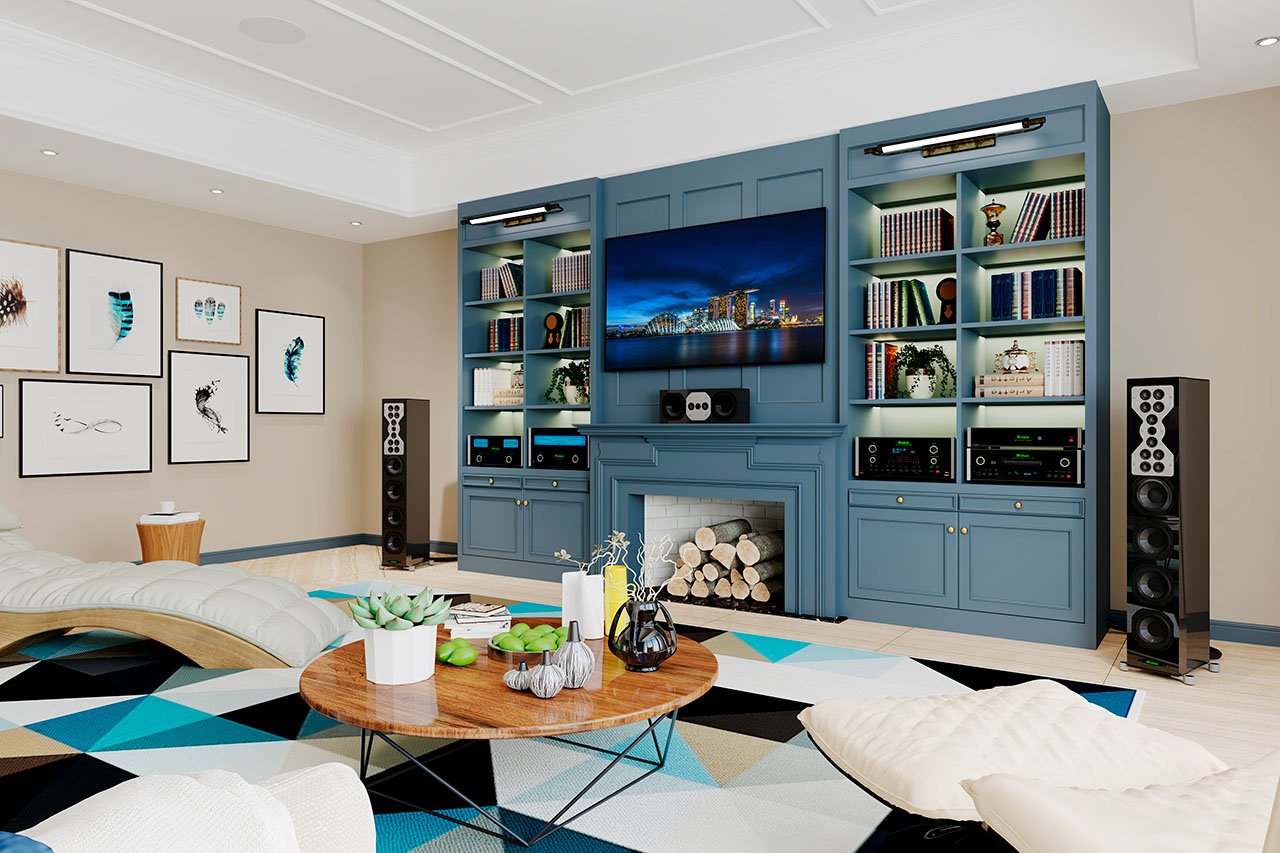 McIntosh Westchester II Home Theater System.
A high-quality home theater set-up with surround sound will elevate any home viewing experience. Surround sound is not only for large custom-installed home theaters; excellent sound quality can also be achieved by adding the right components to a living room or den.
The average built-in TV speaker can't manage the sonic nuance of soft rainfall or the deep bass of an explosion scene. But a high-end home theater AV processor and speakers can translate those details with precision. The set-up can also be adapted to many different room sizes.
Using a high-quality audio system with surround sound speakers can make a dramatic difference in storytelling. Hearing subtle nuances, such as a character's footsteps or breathing, conveys another dimension of emotions. Today's technology allows the viewer to be immersed in a world of music, dialogue, and sound effects, providing a deeper understanding and connection with the story.
This article will first provide a refresh on the fundamentals of surround sound, followed by a deeper dive into the science and equipment needed to achieve clear sound quality.
What is surround sound?
Surround sound is an audio-enriching technique first used in movie theaters: it enhances the fidelity (reproduction of sound) by surrounding the listener with multiple speakers. The best surround sound creates the sensation of noise approaching the listener from multiple directions for a fully immersive listening experience.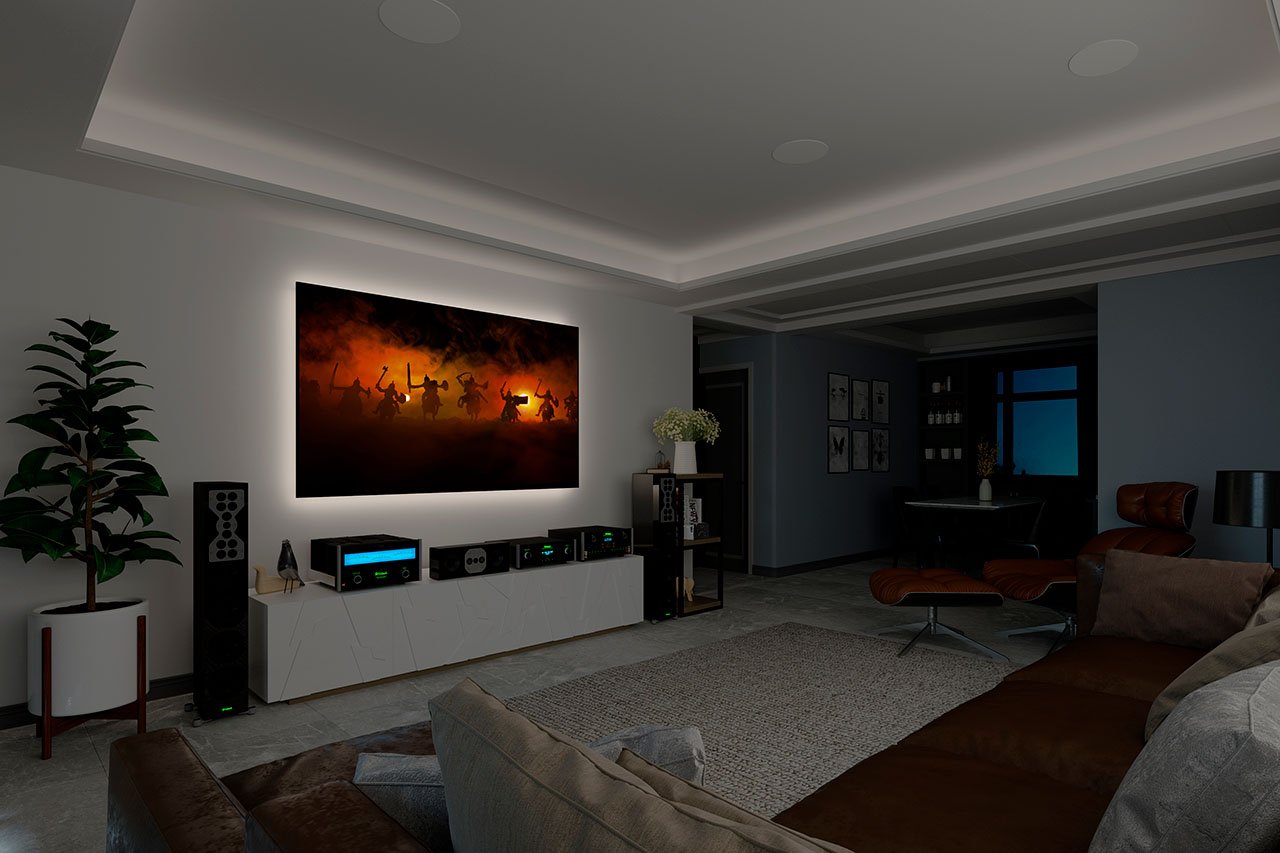 McIntosh Westchester III Home Theater System.
Before surround sound was created, many theaters used three speakers: left, center, and right. Sound played from the three speakers directly in front of the audience. This set-up delivered the necessary sound quality for general movie viewing but did not provide audiences with a fully immersive three-dimensional sound experience.
How does surround sound work?
Surround sound uses multiple speakers, placed in different locations throughout the listening space, to improve the sonic experience. This allows a surround sound system to tap into sound localization. Surround sound systems spread discrete sounds across each speaker, find the sweet spot for speaker placement (in relation to where people sit and the average height), and amplify the sensory experience.
While the speakers deliver the sound, home AV processor and preamplifiers are the brains behind any home theater system. As the human brain processes the physical actions of the body, a home theater AV processor enables source switching and decoding of surround sound formats. More advanced models (like the MHT300 from McIntosh) also allow for growth, which means you can add external amplifiers for additional channels.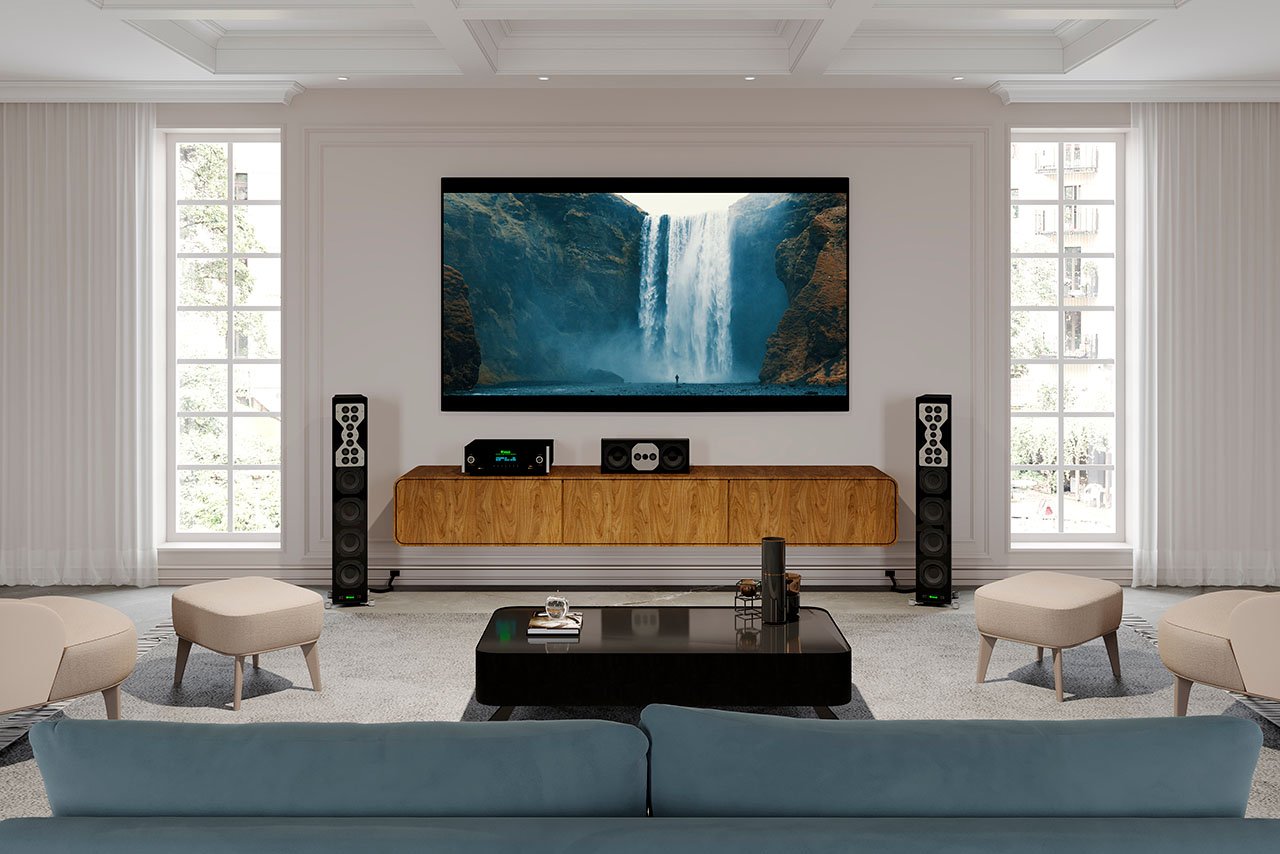 A home theater powered by the McIntosh MHT300 Home Theater Receiver.
Surround sound taps into a listener's ability to pinpoint the origin of a sound, or "sound localization." If someone calls you from your kitchen, you can decipher in which room they are standing because of sound localization.
This same principle applies to the high-speed car chase in a film feel real. The relationship between space, sound, and the brain's built-in auditory processing allows hifi technology to deliver the complexity of sounds heard in everyday life.
What Do You Need to Create Surround Sound?
A basic home theater surround sound system includes:
AV Processor.
Speakers. Typically, home theaters include a minimum of 5 speakers (left front, center, right front, left back, right back) though modern systems allow for expansions of upwards of 13 speakers, including those mounted in the ceiling to meet Dolby Atmos standards.
Subwoofers. These larger speakers handle the low frequencies that regular speakers typically can't manage. Even a single subwoofer will offer well-rounded base in a surround sound system. Many modern systems support several subwoofers to enhance the bass even further.
Media players and source components (such as a Roku, Apple TV, Amazon Fire stick, or a smart TV with ARC)
A TV or projector for the video.
Cables and wires to connect the various components.
There is no one-size-fits-all surround sound system: set-ups can be tailored to adapt to different rooms. Some systems allow for built-in audio streaming via Wi-Fi or wireless speakers for easier set-up. Certain processors will come ready to support 4K HDR technology, while others are already rolling out 8K support. Growth and adaptation are part of a home theater system's nature. Upgrading and adding new components is always an option.
Where to Find High Quality Surround Sound
McIntosh provides a host of solutions for cinema and music enthusiasts alike. For over 70 years, McIntosh has been dedicated to elevating the listening experience and offers a variety of home theater solutions: from home theater AV processors, to speakers, and state-of-the-art custom installation solutions.
While surround-sound systems can be tailored to a wide variety of spaces, we have pre-configured several options. The top-of-the-line McIntosh Reference Home Theater System delivers over 10,000 Watts of power across 7 speakers. Each component combines state-of-the-art technology and McIntosh's signature design queues. This system includes McIntosh XRT1.1K Floorstanding Loudspeaker, the McIntosh XCS1.5K Center Channel Loudspeaker, and the McIntosh XRT2.1K Floorstanding Loudspeaker. The full system was engineered to bring cinematic glory into the ultimate home theater experience.
Other pre-configured systems include the Westchester I Home Theater System, Westchester II, Westchester III, and Westchester IV.

McIntosh Reference Home Theater System.
McIntosh continues to innovate home cinema with the blockbuster power of the new MHT300 Home Receiver. The MHT300 stands apart from other AV processors: it delivers up to 120–150 Watts of power to all 7 home theater speakers simultaneously. Most other home theater AV receivers on the market have their power output measured with only one or two speakers connected and may output only one-half to one-third of their rated power to each speaker when all channels are driven.
With the state-of-the-art Dirac Live® Room Correction, the MHT300 gives the flexibility to fine tune your system to ensure the sound quality matches the unique acoustics of your space. MHT300 produces vivid, clear sound that blurs the barrier between cinema and reality.
Getting Your Home Theater & Home Audio Sound System Installed
To get the best cinema experience from your McIntosh surround sound system find your local dealer or your custom integrator for a professional installation.