ENJOYTHEMUSIC.COM: McINTOSH C2600 "A NEWFOUND FAMILY HEIRLOOM. FOR A LIFETIME... AND LONGER."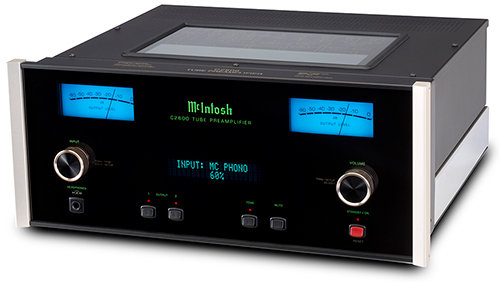 The C2600 Vacuum Tube Preamplifier is the successor to two of our most popular models, the C2300 and C2500. It's a versatile preamplifier with an expansive set of 16 inputs to connect virtually all your analog or digital music sources. It also features a 32-bit/384kHz, DSD digital-to-analog-converter (DAC). For audio purity, the analog and digital sections are housed separately in our dual chassis design to prevent signal corruption. EnjoyTheMusic.com's Tom Lyle spent some time with it recently, calling it "A newfound family heirloom."

"I am very, very impressed by the McIntosh C2600. Lately, I've reviewed a few preamplifiers that are priced much higher than this preamp, but when I put the McIntosh C2600 in my system I was pleasantly surprised. I was not only surprised with its sonic performance, but that this performance comes with so many features. Its number of inputs, tone controls, programmability, not to mention high-performance internal DAC and superb phono section... Add to this the reputation of McIntosh, which will allow one to upgrade in the future, and as a bonus own a preamplifier that retains much of its purchase price. But I have a feeling that this preamplifier will be thought of as more than just an heirloom. Instead, I think any owner of a McIntosh C2600 will be too busy enjoying music through this preamplifier. For a lifetime and longer."

(By Tom Lyle / EnjoyTheMusic.com)

Read the full review.