McINTOSH INTRODUCES THREE NEW HOME AUDIO PRODUCTS AT CES 2014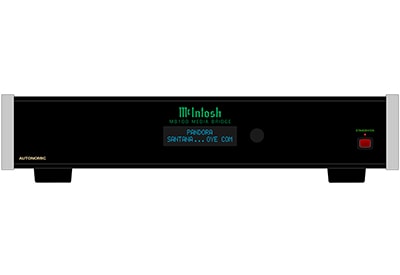 Las Vegas, NV, January 7, 2014– McIntosh, the global leader in prestigious home entertainment and ultimate-quality audio for over 65 years, is proud to announce the launch of three new products at this year's Consumer Electronics Show – MB100 Media Bridge, MHA100 Headphone Amplifier and MXA70 Integrated Audio System. Handcrafted at McIntosh's Binghamton, NY factory, each product combines the best-in-class audio performance of the legendary McIntosh Reference System with the latest in technological development.
"Following the great success of the McIntosh McAire Integrated Audio System and the D100 Digital Preamplifier, we are thrilled to continue expanding our offerings in the digital and personal music arenas," noted McIntosh President Charlie Randall. "The MB100 Media Bridge allows unfettered access to even the most comprehensive musical library, while the MXA70 Integrated Audio System and MHA100 Headphone Amp deliver unparalleled sound quality for the ultimate personal listening experience."
MB100 Media Bridge – the world's music library at your fingertips
The MB100 Media Bridge is the only product that allows streaming from everyone's favorite music streaming services – from Pandora® to SiriusXM® to Spotify® and beyond – with true McIntosh fidelity. In addition to on-board streaming services, the MB100 allows guests to stream music directly from their wireless devices. The MB100 also features cloud access for backup and synchronization across multiple systems. It's this access to the world's music library combined with your personal music collection that delivers a truly unique listening experience. Instantly create a Pandora station from a track in your library with a single touch of the TuneBridge™ icon. Or did you hear a new track on Pandora and you want to find the original album? No problem – by using TuneBridge, Spotify can serve up the entire album in seconds. Its cutting edge solid state 64GB drive houses the OS for rapid response and improved durability, with an additional 1TB hard drive for file storage. Controlled via an iOS/Android app, web browser, TV UI and/or the user-friendly front-panel display, the MB100 is the perfect supplement system for anyone with a vast digital media collection.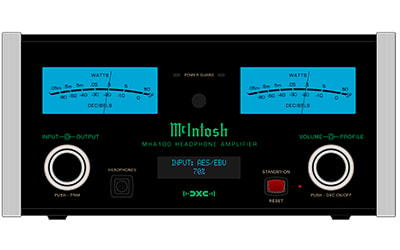 MHA100 Headphone Amplifier personal listening meets McIntosh sound
The new MHA100 is McIntosh's first dedicated headphone amplifier. Although many McIntosh models have headphone drive capabilities, MHA100 has been created to take full advantage of unique McIntosh technologies that will yield the best possible listening experience when using headphones. The MHA100 features four digital inputs to allow playback of files in a wide variety of formats, while the headphone section uses McIntosh-designed and hand-wound impedance matching Autoformers to deliver full McIntosh power into any set of headphones. As a testament to the system's flexibility and McIntosh ingenuity, the MHA100 is more compact than previous McIntosh amps, making it more desktop friendly and a perfect addition to any headphone enthusiast's existing system. It also features a 50-watt stereo speaker output for when you want to enjoy your desktop speakers.
MXA70 Integrated Audio System – a compact solution for the ultimate personal listening experience.STARS OF CES WINNER!
A perfect counterpart to the MHA100, the MXA70 is made for audiophiles that are looking for an all-in-one premium quality audio solution. Featuring a compact yet fully functional 50-watt stereo amplifier and a pair of specially designed 2-way desktop speakers, the MXA70 provides the most optimal sound quality whether you are entertaining a small group or seeking a more individual listening experience. The speakers, finished in a luxurious, high gloss piano black, feature select driver elements housed in custom cast aluminum cabinetry and achieve an unusually rich and full sized level of performance for their size. For an even larger sound, connections for a powered subwoofer are available. For those times when you want to enjoy your music more intimately, the MXA70 includes the same dedicated headphone amplifier found in the new MHA100 that takes advantage of unique McIntosh technologies to yield the best possible personal listening experience.