THE McINTOSH VINYL LISTENING EXPERIENCE WITH NORAH JONES AND RYAN ADAMS, HOSTED BY CHUCK KLOSTERMAN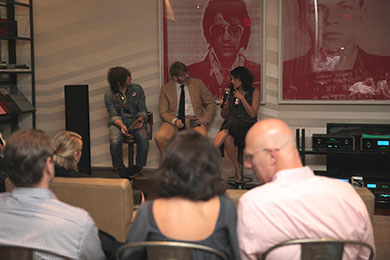 McIntosh presented a vinyl listening event at New York City's exclusive CORE: Club featuring curated playlists from Norah Jones and Ryan Adams with host Chuck Klosterman. The evening featured a variety of music played on the MT10 turntable, accompanied by discussion from the playlist's curators.

Visit Billboard, Bloomberg, The Wall Street Journal and Fader for more coverage.
The night's playlist included:
Howlin' Wolf - Built for Comfort
Black Flag - Room 13
The Isley Brothers & Jimi Hendrix - Move Over & Let Me Dance (Part. 1)
The Smiths - Girl Afraid
Linda Ronstadt - I Never Will Marry
Sonic Youth - Schizophrenia
Puss N Boots - Don't Know What It Means
Puss N Boots - Twilight