DESPACIO: POWERED BY McINTOSH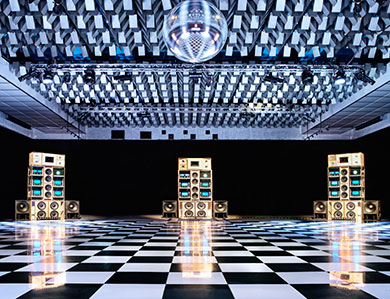 DESPACIO is a one-of-a-kind sound system and music listening experience. Designed in collaboration with LCD Soundsystem frontman James Murphy, renowned audio tech and recording engineer John Klett, and McIntosh UK distributor Jordan Acoustics, DESPACIO is a statement intended to preserve, promote and celebrate the tradition of pure live music performances. The focus is on the partygoers' experience instead of the stage spectacle that has become so commonplace in music today.

DESPACIO made its world debut, powering three vinyl-only club nights featuring Murphy and his friends David and Stephen Dewaele of Soulwax (band) / 2manydjs in the Barbarella-esque 60s ballroom of New Century Hall at the tail end of the Manchester International Festival, July 18th through 20th.
At nearly 50,000 Watts, it's almost double the power of the famed Grateful Dead Wall of Sound
Each of the 7 stacks are 11 feet tall and surround the audience for truly immersive sound
4.5 tons of amplification
DESPACIO will be featured at many more events to come around the world
Click here for media coverage of DESPACIO.