McINTOSH GOES TO AUSTIN, TX FOR F1 GRAND PRIX WEEKEND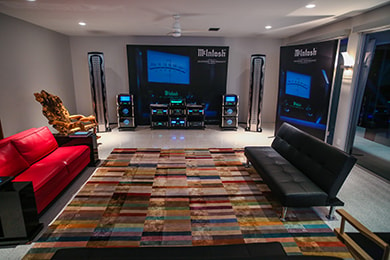 The F1 Grand Prix Weekend is one of the most anticipated weekends in Austin not only for the races but for all the unique events and night life that takes place. After our success with Sting at the 2013 Grand Prix Weekend, we returned again in 2014 in partnership with dealer LMC Entertainment to provide more amazing experiences.

To start the weekend off, we set up at Acquavilla, a 10,500-square-foot contemporary lakeside mansion with amazing lake views, where a DJ played through a McIntosh system on the terrace while a second McIntosh system was set up inside the house for more private listening. We then moved to the W Austin Hotel for two nights of fun, starting off with the Brazilian themed Carnival at Blu followed by the FULL TILT Fashion Show at Blu, where our stylish MHP1000 headphones made a cameo on the runway.

Guests at all events were treated to a McIntosh system comprised of MC2KW amplifiers, a C1000 preamplifier, MCD550 CD Player, MT5 Turntable, MB100 Media Bridge, MEN220 Room Correction System and XRT2K speakers.