RECOMMENDING THE McINTOSH MB50 STREAMING AUDIO PLAYER IS "THE SUREST BET IN SOME 20 YEARS OF REVIEWING GEAR"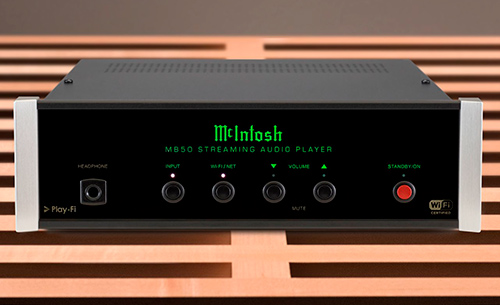 The MB50 Streaming Audio Player allows you to transform your home audio system into a wireless audio system thanks to its built-in DTS Play-Fi® technology. And does so while delivering the legendary McIntosh sound quality and performance.

In his review of the MB50, Tone Audio's Greg Petan was somewhat "shocked" that such a little box "could provide such big musical sound," but came to understand that "despite its diminutive stature, it's all McIntosh" with "a musically rewarding character that gets out of its way" and puts the music first. It "competes on its own playing field... Instruments and voices sound incredibly real in a way that allows the brain to relax and become deeply engaged" with the music. "Textures and musical color fill the room, and instrumental lines remain distinct and un-tangled from one another." He notes these qualities still elude some of the "more costly" digital products of the day.

In today's high end world, the term 'value buy' means many things to many people. To some it can equate to an amplifier costing well into the 5-figures. With that in mind, the only way Petan can characterize the MB50 and its relatively modest price is as "a flat out steal... recommending the MB50 is the surest bet in some 20 years of reviewing gear."

(By Greg Petan / Tone Audio Issue 82 / February 2017)

Click here to read the full review.