McINTOSH MC75 AMPLIFIER IS "POWERFUL, QUIET AND FLEXIBLE, AND SHOULD MATE WELL WITH A WIDE RANGE OF SPEAKERS"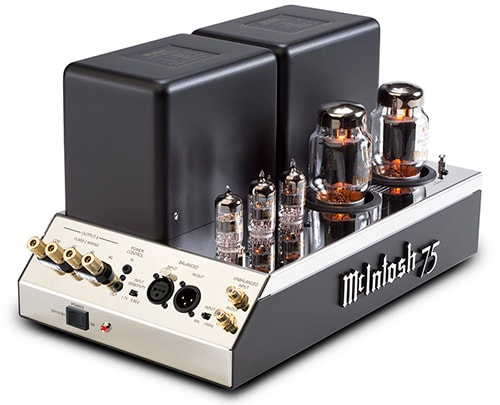 The MC75 Vacuum Tube Amplifier delivers modern performance standards in a classic design. As The Audio Beat's Mark Blackmore found out when he had a pair for review, "for a basic mono power amp, the MC75 has quite a few features" all of which contributed to the MC75 being the "coolest-running tube power amp" he has ever used.

During listening sessions, they struck Blackmore as being "more powerful than their rating would suggest, and that power came without edge or grit... the MC75s could play loudly with so little strain that I learned to be careful with the volume knob." That power was well represented in the lower frequencies as they gave "bass notes adequate power to energize the room." On a couple favorite tracks from Glen Velez's Breathing Rhythms, "that extra power revealed some lower notes... that had gone unnoticed [but] now became part of the rhythmic structure"

Besides more than adequate power and bass response, another trait that the MC75s demonstrated - regardless of the speaker used - "was superb soundstage depth." When paired with InnerSound Eros electrostatic panels, the MC75s had "absolutely no problems driving" them "to full volume with extended treble response."

He concluded his review by stating the MC75s are "powerful, quiet and flexible, and they should mate well with a wide range of speakers."

(By Mark Blackmore / www.theaudiobeat.com / March 7, 2017)

Click here for the full review.