ENJOY THE MUSIC: McINTOSH MC75 AND C22 BRINGS A BEAUTIFUL "YOU ARE THERE" QUALITY TO THE MUSIC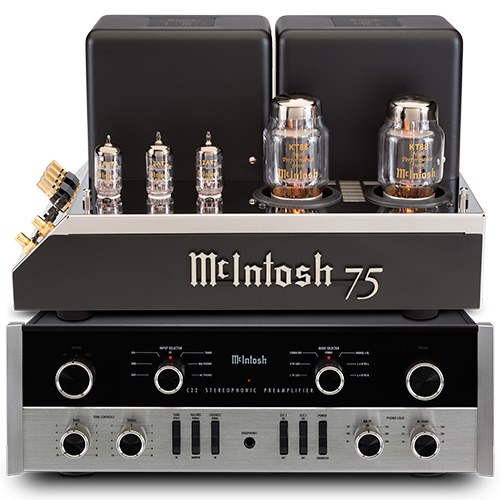 The MC75 mono vacuum tube power amplifier and C22 vacuum tube preamplifier deliver modern performance standards in classic designs. Anthony Nicosia wanted to know if they had enough of what it takes to join the elite group of select McIntosh products that audio lovers have treasured for so many decades. After spending some time with them, he believes the answer is "a resounding YES!"

While enjoying Tracy Chapman's Our Bright Future, there was "a beautiful 'you are there' quality to the music" that caused the album to seemingly end shortly after it started. "High quality tube gear has a way of making time pass rather quickly as one gets lost within the music's spell." Stating that piano can sometimes be difficult for a home audio system to accurately reproduce, he remarked that Philip Glass's Solo Piano was "no challenge at all from the very first to the final note." When switching to vinyl albums, "saying the soundstage was wide, soundscape depth was deep and tonal quality excellent just does not do the experience justice." At one point, he was looking for his ticket stub as he thought he had been magically transported to a live performance in a local club.

(By Anthony Nicosia / EnjoyTheMusic.com / November 2015)

Full article available here.

Also: McIntosh MC75 receives Enjoy The Music's 20/20 Award - learn more.