McINTOSH MCD550 SACD/CD PLAYER NAMED A PRODUCT OF THE YEAR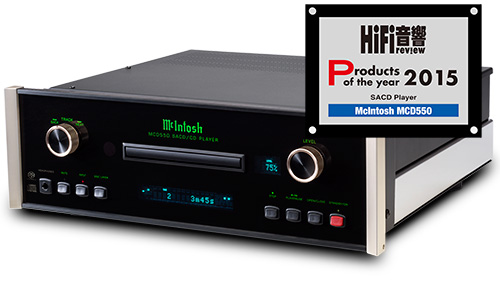 The McIntosh MCD550 SACD/CD Player has been named a 2015 Product of the Year by HiFi Review magazine, noting it has "A very realistic sound field, if I close my eyes it's as if the piano and drums are in front of me no less than 3 or 4 meters away." We are honored to receive this award and to add it to our collection of HiFi Review Product of the Year awards previously received for the MA7900 integrated amplifier and MC601 amplifier.

The MCD550 utilizes an 8 channel, 32 bit, 192kHz PCM/DSD digital to analog converter (DAC) with wide dynamic range and extremely low distortion. The 8 channel DAC is used in Quad Balanced mode, which utilizes 4 DAC channels per audio channel, allowing music at all levels to be reproduced with extreme precision and elegance.