New Features Added to MX123 A/V Processor
DTS:X Pro, Dolby Atmos Height Virtualizer, MPEG-H Audio, and Crestron Home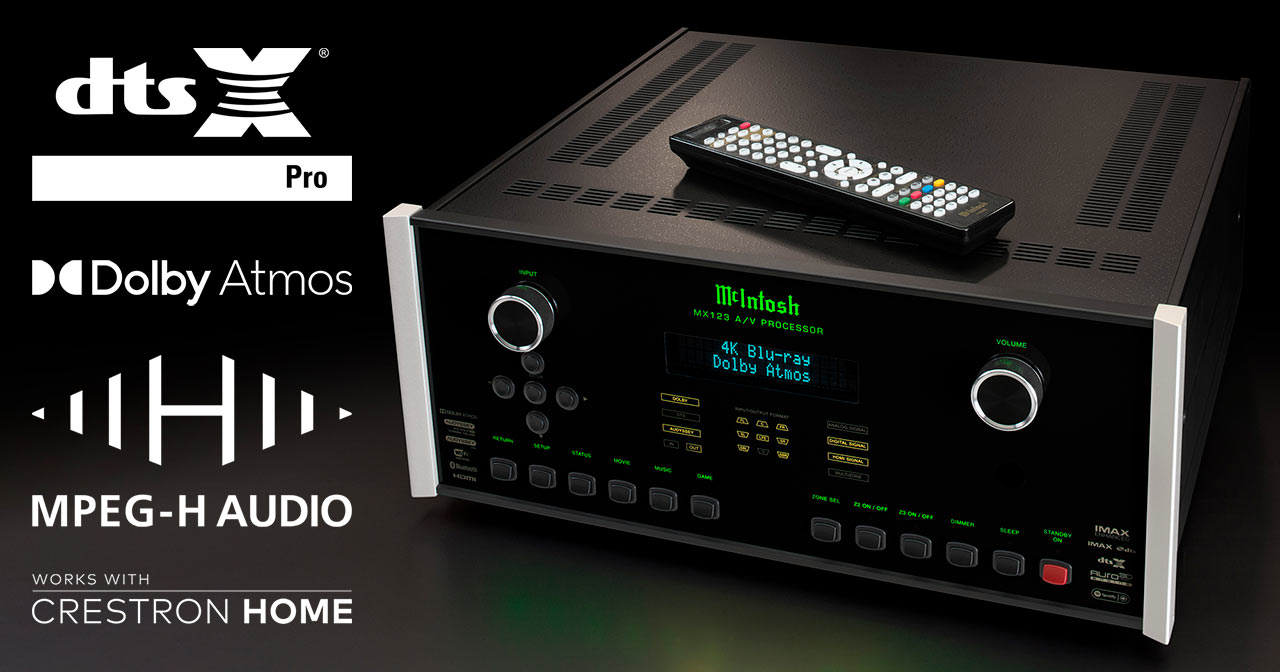 We are excited to announce that DTS:X® Pro, Dolby® Atmos Height Virtualizer, MPEG-H Audio, and Crestron Home certification have been added to the MX123 A/V Processor. With these new features, we are giving customers access to unique immersive and interactive audio content delivered over global TV broadcast and streaming services, and adding even more industry leading capabilities to the MX123's already impressive feature set.
DTS:X Pro
DTS:X was already included in the MX123, but now it has been upgraded to DTS:X Pro. With DTS:X Pro technology, greater spatial resolution and realism in premium home cinema technology is now possible. Experience how truly immersive audio transforms your favorite movies, music and games. Feel truly immersive audio the way it was intended, with sounds that have depth and a physical presence placed precisely where they should be, above, beside, or behind you. DTS:X Pro puts you there.
Dolby Atmos Height Virtualizer
The MX123 already featured Dolby Atmos, but now Dolby Atmos Height Virtualizer has been added. Dolby Atmos Height Virtualizer uses sophisticated height-cue filters and digital signal processing to simulate the sound that would come from overhead speakers even when there are no overhead speakers installed in the audio system. Instead the overhead sounds are produced by the speakers that are placed at more standard listening height in a 2.1, 5.1 or 7.1 speaker configuration.
MPEG-H Audio
Primarily developed by Fraunhofer IIS, MPEG-H Audio is an open ISO standard and the industry's most advanced audio system for UHD-TV and streaming. It supports both immersive sound and the ability for users to adjust elements in the audio to their preferences. MPEG-H has been on the air since 2017 on all TV networks in South Korea under the ATSC 3.0 standard. It was also selected for new broadcast standards to be launched in Europe, China and Brazil.
Crestron Home
Works with Crestron Home certification from Crestron unlocks the full potential of a smart home. It's the complete package for any size project, delivering a simpler, smarter user experience for homeowners, remarkably fast configuration and deployment for integrators, and the confidence that comes with renowned, best-in-class Crestron control hardware.
To add DTS:X Pro, Dolby Atmos Height Virtualizer, and MPEG-H Audio to an MX123, simply update the firmware to the latest version. This can be done by going to Setup Menu > General > Firmware.
To add an MX123 to a Crestron Home smart home, the dealer or installer should go to the Crestron Certified Driver Web Portal and download the appropriate McIntosh MX123 module.