THE "HIGHLY DETAILED AND ACCURATE" MX160 HOME THEATER PROCESSOR IS HIGHLY RECOMMENDED BY STEREO+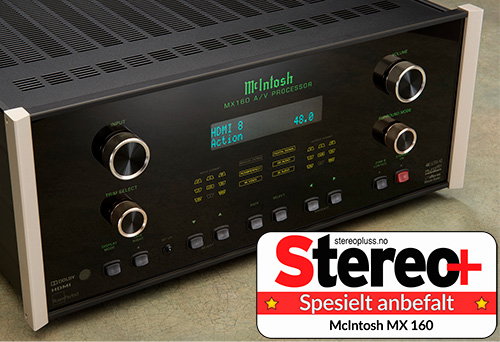 Stereo+ calls the MX160 a "goosebumps machine" that "performs at a level we have hardly ever heard before." The MX160 is full of all the latest home theater technologies - such as Ultra HD (4K) video capabilities, support for new object-based 3D audio formats and advanced room correction technology - to give you a luxury entertainment experience in the comfort of your home. "The sound effects are so clear you can almost reach out and touch them." Stereo+ says it is a "pure pleasure" that deserves reference level status not only for movies but also for music listening. The MX160 was awarded their Highly Recommended (Spesielt anbefalt) classification.

(By Jørn Finnerud / Stereo+ / June 8, 2016)

Learn more.