McINTOSH McAIRE NAMED GEAR OF THE YEAR BY MEN'S JOURNAL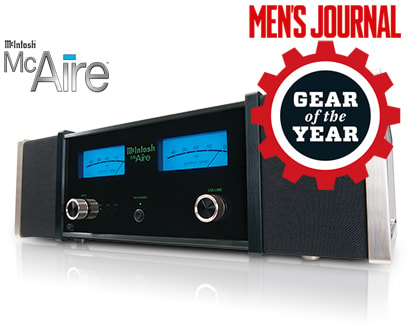 It seems as though every venerable audio brand... is throwing its hat into the iPhone dock game, and that not another day goes by when a new wireless Bluetooth or Airplay speaker system isn't launched. We were on the verge of burnout with these new devices – that is, until we heard the McIntosh McAire, the first product for the iTunes ecosystem from the legendary audiophile amp company.
...the beauty of this device is its all-in-one delivery of surprisingly expansive, detailed, and accurate sound, even of the digital tracks on our iOS devices. The first time we sat in a demo room and played "Sleeping Ute," the opening track of our iTunes-purchased version of Grizzly Bear's 'Shields,' we thought the sound was coming out of a pair of Boston Acoustics speakers that had been placed on the side (no doubt, for effect), but in truth the sound was coming out of the two half-foot-high built-in speakers on either side of the McAire. Bigger-than-expected sound aside, the most impressive aspect of the McAire is the way, like any good sound system, it plays back tracks the way they were recorded and meant to sound, rather than with all the bass-heavy, equalized, subwoofer-ified treatments you'll find on many competing sound dock systems.
...Bottom line? So far, it's the best all-in-one, out-of-the-box audiophile experience for iTunes we've tried.
(By Tom Samiljan / MensJournal.com / November 26, 2012)

Full article available here