McINTOSH PARTNERS WITH TIDAL TO BRING HIGH FIDELITY MUSIC STREAMING TO MB100 MEDIA BRIDGE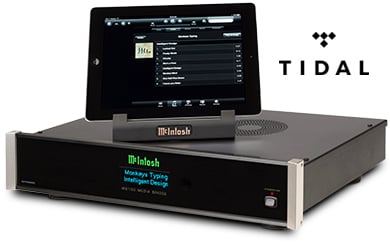 McIntosh has partnered with TIDAL, the first high fidelity lossless music streaming service with HD music videos and curated editorial, to bring their expansive library of music to the MB100 Media Bridge. This enables MB100 users with TIDAL subscriptions direct access and control of the service's 25-million track CD-quality music library direct from the apps that control their players. iPhone, iPad or Android devices are supported and allow users to browse the library, check out TIDAL's pre-made playlists or create their own.

Charlie Randall, President of McIntosh and COO of Fine Sounds Group, said, "Streamed music is growing rapidly yet the audio quality up until now has left room for improvement. At McIntosh, we want our customers to get the very best experience from their audio systems and enjoy music the way it was intended. TIDAL now offers the solution we have been waiting for and we are delighted to have it integrated into our MB100."

Pål Bråtelund, Strategic Partnership Manager HiFi at TIDAL, said, "As a CD-quality streaming service, it is crucial that users can experience TIDAL on the best audio products available. We are delighted to have McIntosh implementing the service, as we class McIntosh as being amongst the best in the world."

A firmware update is required to enable TIDAL on installed MB100s. See the Owner's M​anual for details.