McINTOSH INTRODUCES THREE NEW HOME AUDIO PRODUCTS AT CES 2016
January 6, 2016 – McIntosh, the global leader in prestigious home entertainment and ultimate-quality audio for over 65 years, is proud to introduce three new products at this year's Consumer Electronics Show: the MX122 A/V Processor, MB50 Streaming Audio Player and RS100 Wireless Loudspeaker. Each product combines the best-in-class audio performance of the legendary McIntosh Reference System with the latest in technological development.

MX122 A/V Processor - shipping anticipated in January 2016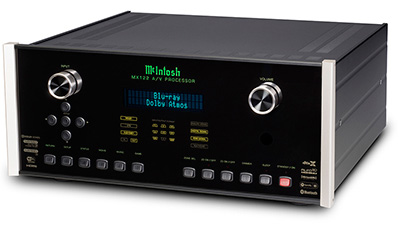 The MX122 A/V Processor can serve as the brain center for an advanced home theater system for years to come. It features many of the latest breakthroughs in surround sound and object-based 3D audio such as Dolby® Atmos, and will be upgradable to support DTS:X™ and Auro-3D®. Besides 3D audio, existing formats like Dolby TrueHD, DTS-HD Master Audio™ and others still work so you can keep enjoying your existing movie collection. Regardless the format, all audio will be processed to legendary McIntosh sound quality and performance standards. The MX122 is also fully compatible with modern 4K Ultra HD video sources and can upscale lower resolutions to 4K Ultra HD for the best possible picture quality. All HDMI inputs and outputs are HDCP 2.2 and support High Dynamic Range (HDR), 4K Ultra HD at 50/60Hz, 4:4:4 color, Rec. 2020 and 3D video pass-through... more

MB50 Streaming Audio Player - shipping anticipated in March 2016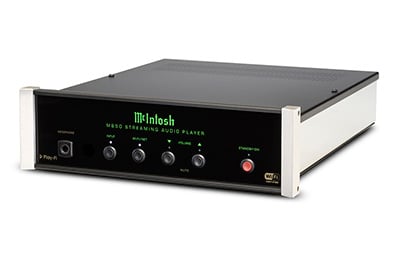 Transform your home audio system into a wireless audio system with the MB50 Streaming Audio Player. The MB50 features DTS Play-Fi® technology to give you the freedom and flexibility to wirelessly play your music at home anyway you want over your existing Wi-Fi network. While utilizing DTS Play-Fi streaming capabilities, the MB50 delivers the legendary McIntosh sound quality and performance found in our other home audio products. All music handling is done to McIntosh's exacting standards that are not found in any other Play-Fi device.

To set your music free, simply connect an MB50 to your audio system and Wi-Fi network, download the Apple or Android mobile app or Windows desktop app and then you're ready to stream. Besides accessing your personal music library, the apps have built-in support for many leading online streaming services, letting you enjoy your streaming music on any speakers in any room in your house... more

RS100 Wireless Loudspeaker - shipping anticipated in March 2016
WINNER OF A PRESTIGIOUS WHAT HI-FI STARS OF CES AWARD!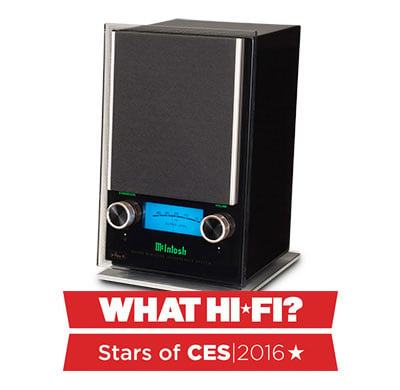 The RS100 wireless speaker allows you to easily add streaming music capabilities to any room you want. It features DTS Play-Fi® technology that gives the freedom and flexibility to wirelessly play the music on your mobile devices over your existing Wi-Fi network. Simply connect the RS100 to your Wi-Fi network, install the free Play-Fi Apple or Android mobile app or Windows desktop app and then you're ready to stream your music. The RS100 is a great first piece to introduce yourself to McIntosh's legendary sound quality and performance standards.

A single RS100 is all that is needed to start building your wireless speaker system; more can be added over time to expand your system. Up to 16 speakers can be connected to a single Wi-Fi network - enough for stereo playback in 8 separate rooms. With the Play-Fi app installed on all your devices, each device can stream different music to each room, giving all family members or guests control over what they want to hear in their room. Besides accessing your personal music library, the apps have built-in support for many leading online streaming services, letting you enjoy all your streaming music on your RS100... more