QUESTLOVE, JOHN VARVATOS and the McINTOSH MT5 TURNTABLE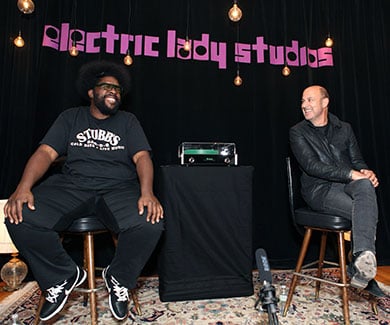 McIntosh hosted a listening event for the new MT5 Turntable at New York City's historic (and Jimi Hendrix-founded) Electric Lady Studios. The evening featured a variety of music played on the MT5, accompanied by discussion from the playlist's curators - Questlove and John Varvatos.
The night's playlist included:
Marvin Gaye - What's Going On
The Police - King of Pain
Nirvana - Smells Like Teen Spirit
Beastie Boys - Shake Your Rump
Guns N Roses - Sweet Child Of Mine
Prince - Lady Cab Driver
Willie Dixon - Spoonful
Stevie Wonder - Superwoman
David Brubeck - Take Five
Bill Withers - Ain't No Sunshine (to which Questlove said "I've been listening to the song for 40+ years & I'm just hearing it now!")
Gary Clark, Jr. - When My Train Pulls In
Make sure to check our News & Events page for coverage.