MB100
Media Bridge
Hub for all your digital media
Enjoy your favorite streaming services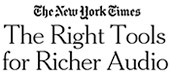 With music now being created, stored and distributed in an assortment of ways, you need a simple yet sophisticated device to manage it all. The MB100 Media Bridge does just that by connecting you to all your favorite web based and hard drive stored digital music and allows it all - including uncompressed, lossless 24-bit/192kHz files - to be enjoyed in legendary McIntosh sound.
With all of its onboard storage and external connection capabilities, it can easily serve as the hub for all your digital media. A 1TB internal hard drive is included for content storage, while four USB ports and one eSata port allows you to connect additional external hard drives or flash drives full of content. The high speed network port connects you to your preferred online streaming services1 such as Pandora®, Rhapsody®, SiriusXM®, Spotify®, TIDAL and TuneIn (subscriptions may be required), while additional streaming services may be added in the future. You can also add your favorite internet radio stations as presets. Two analog or two digital outputs connect the MB100 to the rest of your audio system, or connect it via USB to any of your other McIntosh products that accept USB audio. Creating two independent zones of audio is available when using the USB connection in combination with the analog or digital outputs.
The MB100 can automatically synchronize the content stored on your networked computers so it is readily accessible and playable. When connected to a video monitor, you can watch a slideshow of your favorite photos while playing the music of your choice.
All of your content can be backed up to the Amazon Cloud Drive or Apple iCloud. This also allows for your music to be synchronized across multiple homes or locations. The MB100 can even be configured so that your new music purchases from either cloud service can be automatically added to your library for easy enjoyment.
The MB100 utilizes the same highly regarded 8 channel, 32-bit, 192kHz DAC with wide dynamic range and extremely low distortion as our D100 digital preamp. The DAC is isolated from the motherboard, ensuring music at all levels is reproduced with extreme precision and elegance. The operating system and music player are housed on a state-of-the-art solid state hard drive for fast response times, quiet operation and durability. The MB100 is controlled via an iPhone, iPad or Android app, a web browser, or a remote control with TV interface and is compatible with many popular home automation systems allowing for easy integration into your existing setup.
MB100 Media Bridge is powered by Autonomic.

1) All services may not be available in all regions; certain services may not yet be enabled for all apps; subscriptions may be required. List subject to change.

Limitations on Third Party Services and Data Sources: Certain McIntosh Products include an interface that enables access to services (including data) that are provided by third parties unrelated to McIntosh (such as, by way of example only, Amazon Cloud, Spotify, Gracenote, etc.). Some of these services require separate customer subscriptions and some do not; and some may be supported by and compatible with the McIntosh Product while others may not. Merely providing the capability to access such services is not to be construed as making McIntosh the provider of, or responsible for, the services, or for continuing to support or make such access available; and McIntosh expressly disclaims any such responsibility. Because McIntosh cannot control the providers of such services or the services themselves, and similarly cannot control the communication systems and networks that connect the Products' interfaces to the services, McIntosh cannot and does not warrant against, and shall have no liability of any kind for, any of the following that are related to third party services, the providers of those services, or the systems or networks by which the McIntosh Product communicates with the services: (i) unavailability, lack of compatibility or functionality, interruption, discontinuance, or loss of service, or other unsatisfactory performance, act, or omission; (ii) loss or unauthorized use or disclosure of, or damage to, personal information, recordings, or other data; (iii) reduced functionality of the McIntosh Product; or (iv) any other loss or damage of any kind.McIntosh likewise does not warrant against, and shall have no liability for, any failure of its Products to satisfactorily process any externally sourced data where such failure is attributable in whole or in part to the makeup of the data itself or to a non-McIntosh product, system, or service that is the source of the data or that provides access to the data.