More McIntosh Products Receive Roon Tested Designation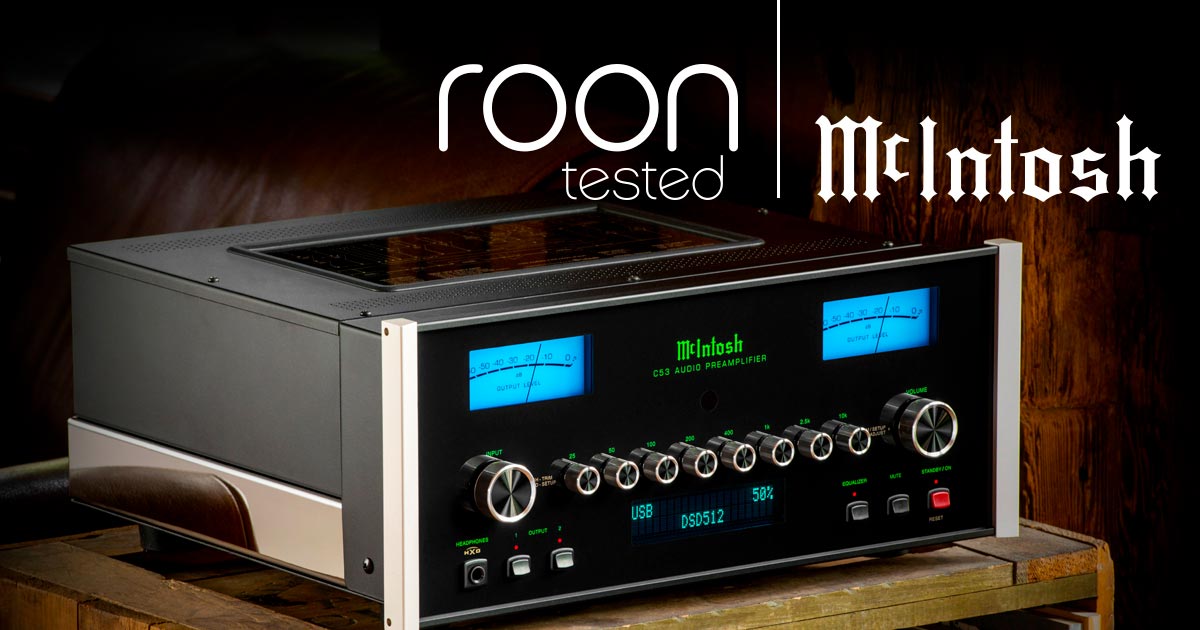 McIntosh, the global leader in prestigious home entertainment and ultimate-quality audio for 70 years, is proud to announce that two more of its products have received Roon Tested designation from Roon Labs: the C53 Solid State Preamplifier and the C2700 Vacuum Tube Preamplifier. This brings the total number of McIntosh products that have received Roon Tested designation to 14.
Roon is a rich and engaging way to browse, organize, and listen to music. Artist photos, credits, bios, reviews, lyrics, tour dates, and composers are located automatically, then interconnected by links to build a surfable digital magazine. Roon is also a multi-room, multi-user networked audio platform, it offers features such as bit-perfect playback, DSD and PCM upsampling, multichannel support, and Signal Path display.
McIntosh products started receiving Roon Tested status in March 2019. Here is the complete list of McIntosh products that have received Roon Tested designation:
C47 Solid State Preamplifier
C48 Solid State Preamplifier
C49 Solid State Preamplifier
C50 Solid State Preamplifier
C52 Solid State Preamplifier
C53 Solid State Preamplifier
C2600 Vacuum Tube Preamplifier
C2700 Vacuum Tube Preamplifier
D100 Digital Preamplifier
D1100 Digital Preamplifier
MA5200 Integrated Amplifier
MA5300 Integrated Amplifier
MA6700 Integrated Amplifier
MA7200 Integrated Amplifier
MA7900 Integrated Amplifier
MA8000 Integrated Amplifier
MA8900 Integrated Amplifier
MA8950 Integrated Amplifier
MA9000 Integrated Amplifier
MA9500 Integrated Amplifier
MA12000 Integrated Amplifier
MAC6700 Stereo Receiver
MAC7200 Stereo Receiver
MCD1100 SACD/CD Player
MCD12000 SACD/CD Player
MHA100 Headphone Amplifier
MHA150 Headphone Amplifier
MXA70 Integrated Audio System
MXA80 Integrated Audio System
All of these models utilize a powerful 8-channel, 32-bit Digital-to-Analog Converter (DAC) used in Quad Balanced mode. Their coax and optical inputs will decode music up to 24-bit/192kHz; their USB inputs accept even higher PCM signals up to 32-bit/384kHz and support up to DSD256 and DXD 384kHz. The C53, C2700, MA8950, MA9500, and MA12000 use a newer, next generation DAC with improved dynamic range and total harmonic distortion that supports up to DSD512 via USB.
As a Roon Tested partner, McIntosh has provided equipment to Roon for testing with a variety of different operating systems and computers, and shared information about its design and capabilities.
How to get started
New users will need to create a Roon account, then download and install the application. Existing Roon users can trigger their system to acquire the McIntosh device icons and optimized settings by restarting their Roon Core. Then they can use the Identify My Device feature in Device Settings to apply the new information.